At the end of each month, Skimlinks pays publishers their cleared account balance as long as:
The Publisher has entered payment details in the Publisher Hub.
The merchant has paid Skimlinks the commission.
The total commissions paid by the merchants exceeds the payment threshold of $65/€55/£50.
We pay publishers the commissions that have been paid to us by merchants. For commissions to be cleared, they have to be approved by the retailer and paid by the partner we used to handle the transaction. The amount of time it takes for a commission to be confirmed and paid varies per merchant, and it takes at least 92 days from the transaction date.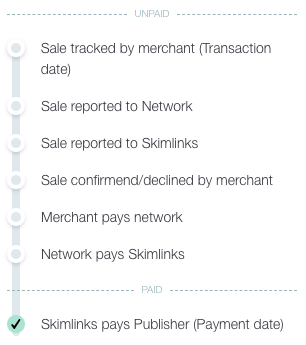 Networks and retailers can cancel commissions at any point for various reasons including: customers returning their purchases, errors in the transaction, attributing the sale to another Marketing channel, network quality concerns.
How much you will receive will be detailed in the self billing invoice we send in the days prior to payment. Please do not use the Performance Report to calculate your owed commissions as this is does not reflect which commissions have been paid to Skimlinks. Please use the payment status report showing which commissions have and have not been paid to Skimlinks to understand what we know will be paid to you. Anything listed as Unpaid that is more than 3 months old has either not been confirmed by the merchant/network, not been paid to Skimlinks, or we have not been able to pay you because of incorrect payment details, not meeting the threshold, or network quality reasons.
If you have not received a payment, but there is an invoice in your account, please wait until the 5th of the month to contact our Account Specialist team, as sometimes the process can take a few days to complete. If there is no invoice in your account, then you will not be receiving a payment.